Simple settings
From MoHAAS.net Wiki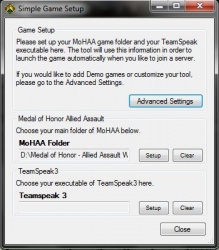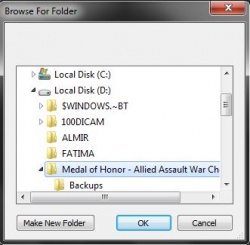 Simple settings is a tool menu that offers the user an easy menu to setup the game with the tool. It contains an option to define the (MoHAA) game folder and a TeamSpeak 3 executable.
Changing the game folder
In the tool, navigate to Program, Simple Settings. A window (see on the right) will pop up.
Under MoHAA Folder, click the button Setup and select the path of your MoHAA game folder. Most of the times, the game folder is C:\Program Files\EA Games\MoHAA\.
Don't forget to press OK to save your configuration. It will automatically assign all your games (MoHAA, Spearhead and Breakthrough) if the games can be find. If that does not work, you should use the advanced settings.
On the right you can see an example how to setup your game folder.
Advanced settings
The advanced settings offer a detailed way to setup all your games of the MoHAA series.