Map downloader
From MoHAAS.net Wiki
The MoHAAS.net tool includes a map downloader since version 1.3.
Purpose
There are around 25 basic maps in the world of MoHAA, Spearhead and Breakthrough. To increase the attractivity of our game, the MoHAAS.net tool implements a map downloader. This add-on application allows users to play on servers with custom maps. Custom maps are additional maps to the basic game which have been created by non-official sources.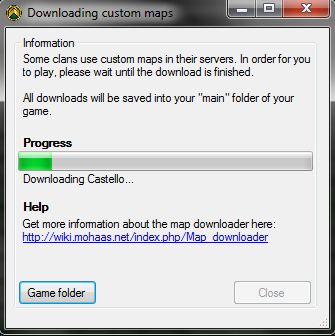 Download folder
The map downloader automatically downloads custom maps into your main game folder of your game. In detail, that is:
All downloaded files are named [MoHAAS.net] mapcode.pk3, for example [MoHAAS.net] mp_malta_dm.pk3.
Remove a custom map
If you would like to remove a custom map from your game, simply delete the file from your folder. Please note that you cannot join servers using this custom map anymore. The tool will automatically attempt to re-download this map again when you try to connect to it.
Security
Server owners that are registered with the MoHAAS.net tool can enable custom maps through their administration panel in the game. The MoHAAS.net tool only accepts a verified list of custom maps in order to restrict abuse. Additional custom maps can only be applied for through the administration panel as well.